Home | Directory | Photo | Map | Random | About me
Travel to Daocheng - The Last Shangri-la
Text by: Jian Shuo Wang | Photographs by: Jian Shuo Wang
Tip: Mouse over each picture to see description.
---
Look at the Mount. Xiannairi, shining under the sun with drop of blue skies. Standing 6,032 meters above sea level, it is one of the three holy mountains in Yading. It looks like a fairy land. Taken from Luorong Cattle Field.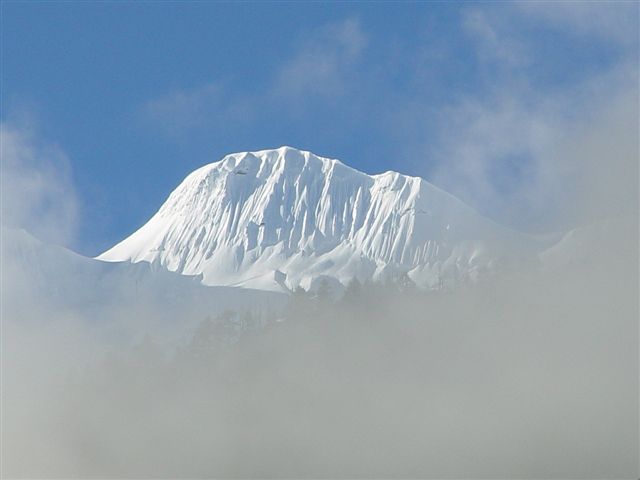 Lying wood in the Lake Pearl. Check the color of the water - it is like a jade. Yading is featured by its snow mountains and mysterious Tibetan culture, but the waters are also among the best I have ever seen.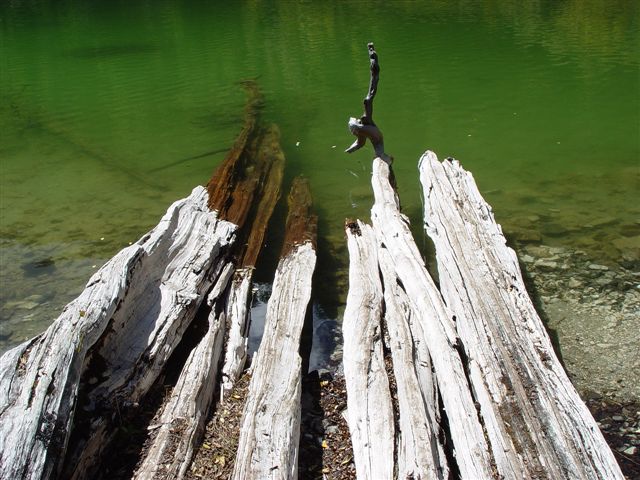 [Download wallpaper version (1280x960) for this picture]
Woodland near the river. The trees has different colors and the water is crystal clear. I seems no body has never been there. Taken near Chonggu Temple in Yading.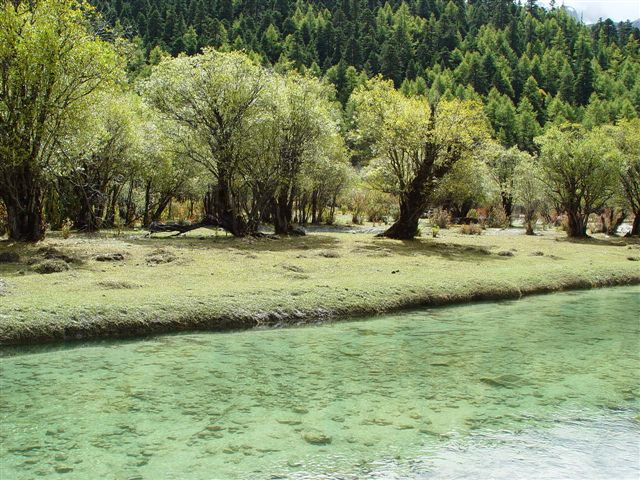 [Similar Photos]

Looking up to the Mount. Xiannairi, with trees of various color and Lake Pearl in foreground. No body has never been to the top of the mountain yet.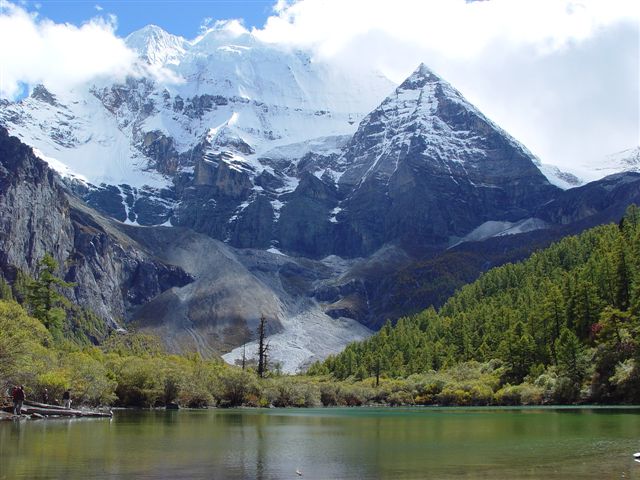 [Download wallpaper version (1280x960) for this picture]
[Similar Photos]
Xiannairi, the holy mountain. It is so near. Looking from the Lake Pearl.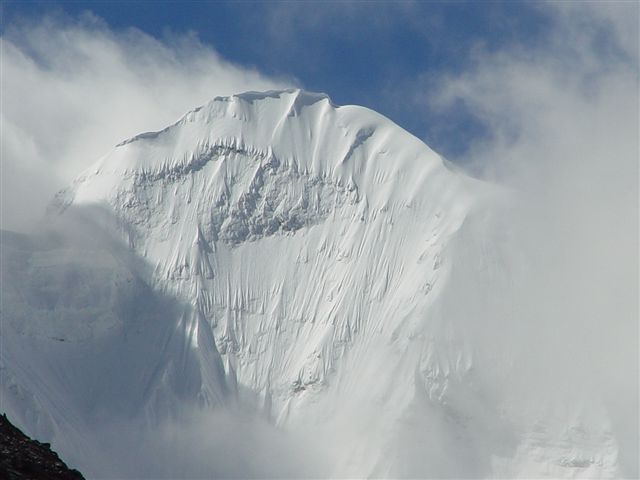 [Download wallpaper version (1280x960) for this picture]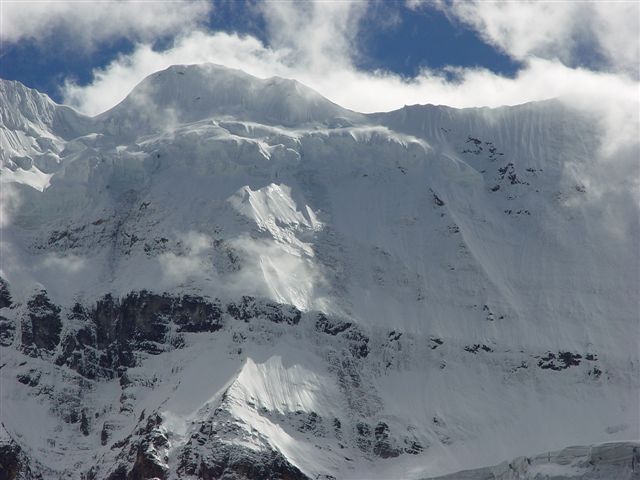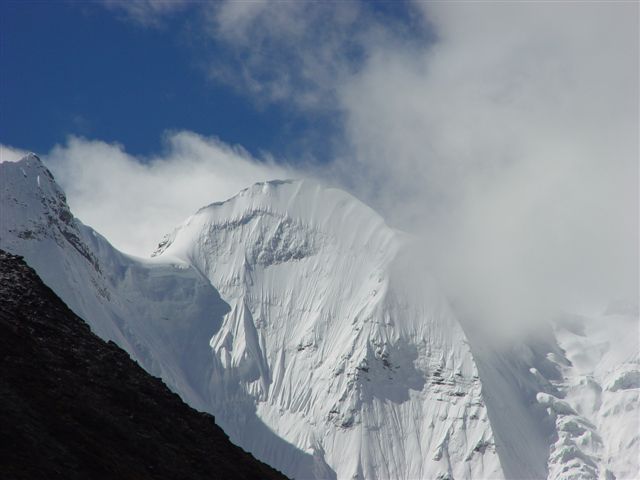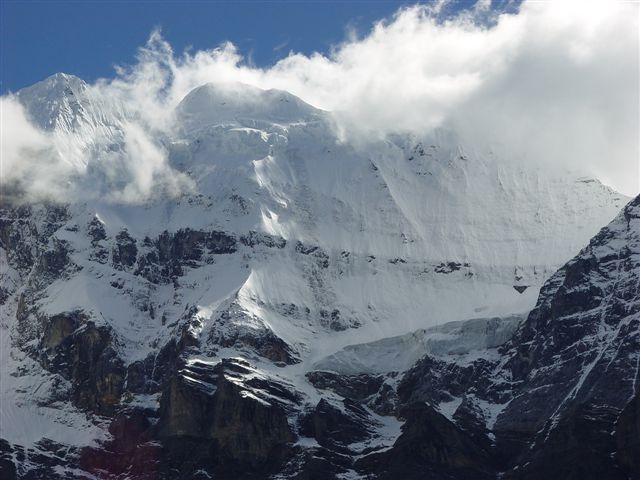 [Similar photos]
Tibetan village lying in the valley between Riwa and Daocheng. The tough road is winding among the green mountains and the brook is singing all the day - it is completely another world for the Tibet residents. Pay attention to the unique Tibetan architecture.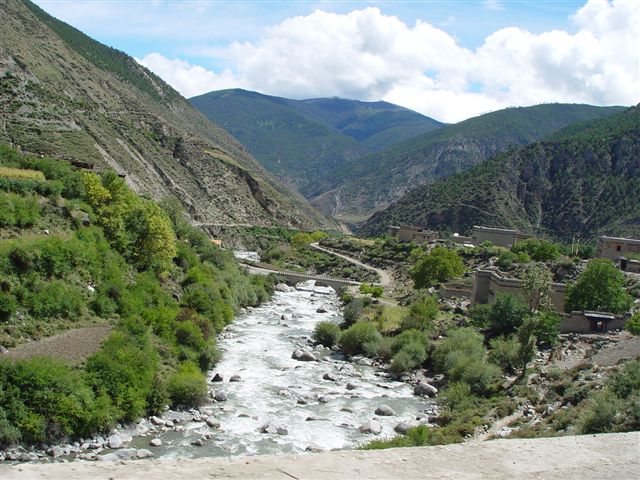 [Similar photos]

An old woman in Riwa. She is 81 years old and speaks Tibetan. She is so nice and greeted us with simple Mandarin.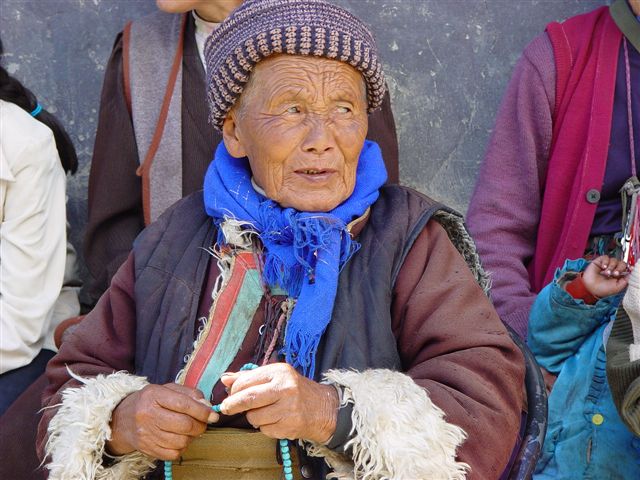 [Similar photos]
Snow fields on Haizi Mount. We marched through two different seasons in that day, from hot summer to icy winter. The black lines are the road winding among the moutians.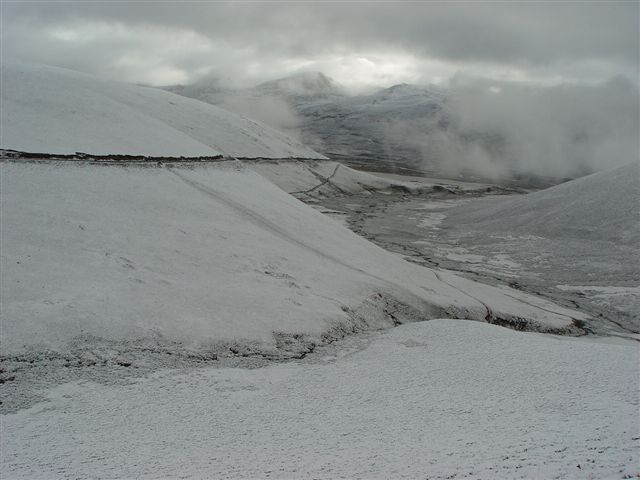 [Similar photos]
The night of Litang County. 3,900 meters in altitude, it is the highest settlement in the world. It is a pity that we did stayed there.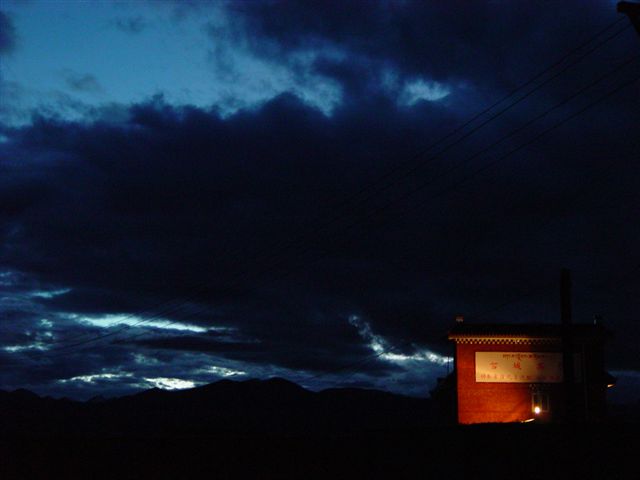 Chonggu Temple, on the half way from our Yading base to Luorong Mount.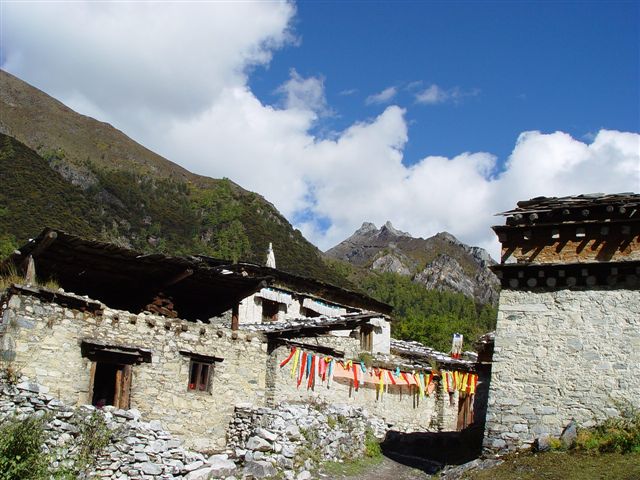 [Similar photo]
Spraying flags on the top of the mountain...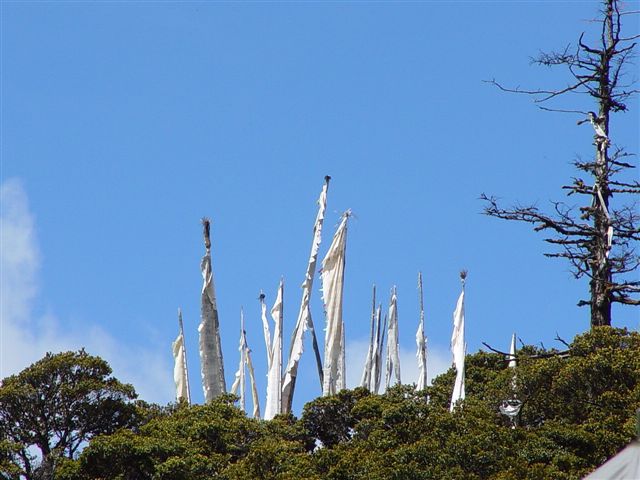 Black and white - like a Chinese paint. Look at the mountains hanging on the sky.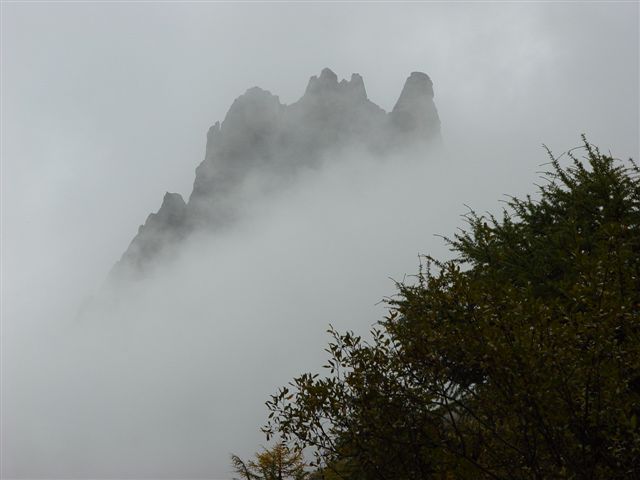 Lake Pearl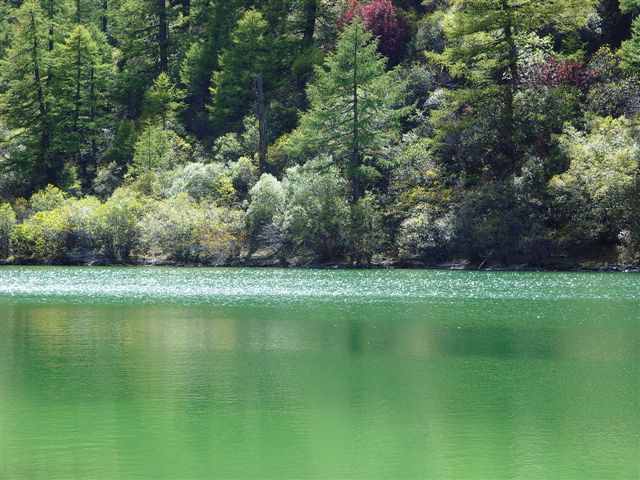 [Download wallpaper version (1280x960) for this picture]
Snow capped peak of Mt. Yangmaiyong with an altitude of 5958 meters (19,542 feet). It looks like a spear pointing to the sky. It is breathtaking when you see it by your own eyes.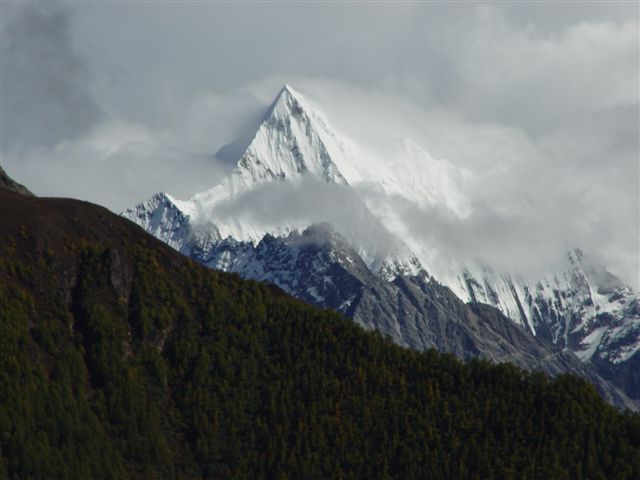 [Similar photos]
Sprayer flags and stacked stones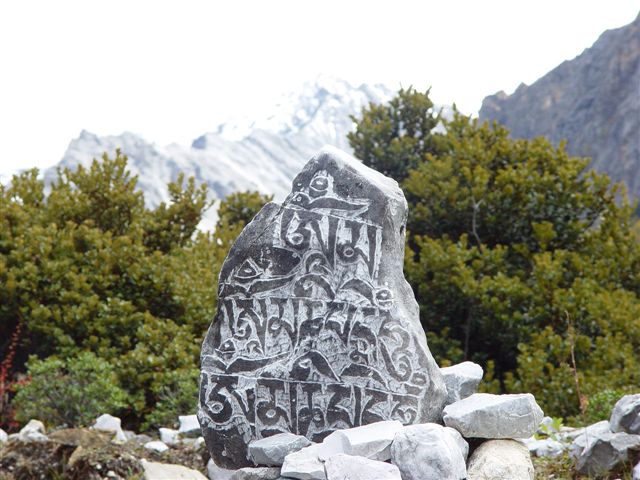 This kind of sceneries - mountains after mountains, grass after grass - are along the 1000+ kilometers 318 Chuang-Zang Highway.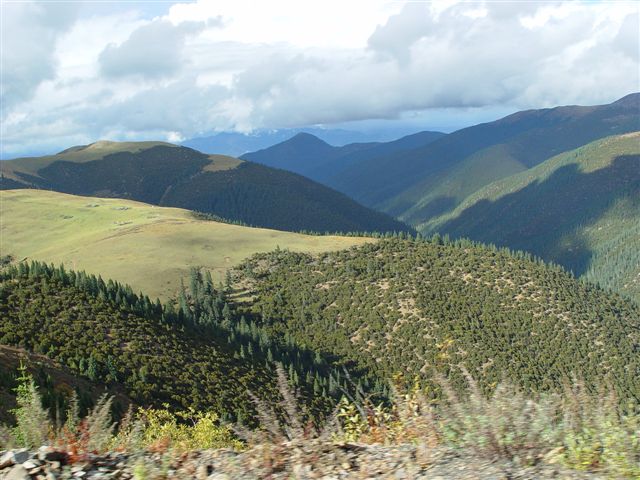 [Similar photos]
Baddish in the Chonggu Temple, showing the best wishes to his guests.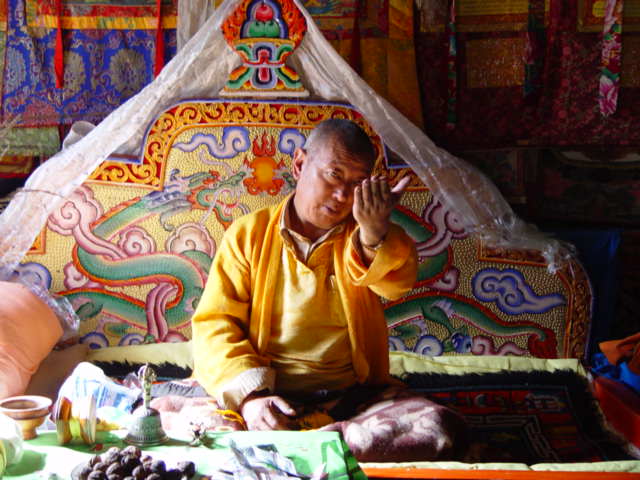 [Similar photo]

It is the first time I steps out of the bus to breath the fresh air of Mt. Balang. It is about 4,600 meters high above sea level. I felt headache there - the effect of altitude sickness. In the high land, I have to walk very slowly.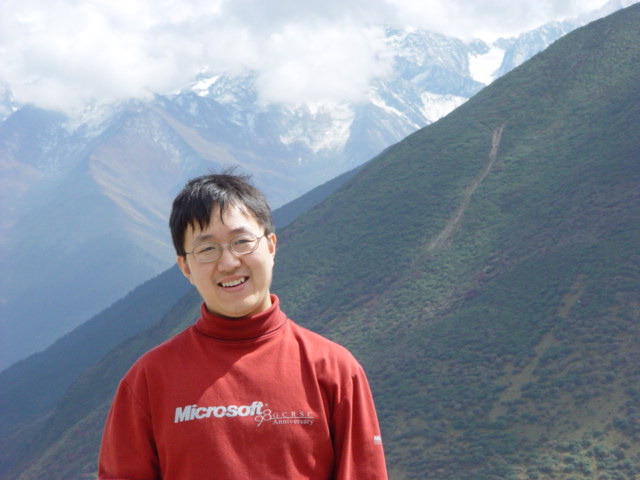 [Similar Photo]
Trees and mountains near Daocheng. It is said that the wood extends to about 5 km.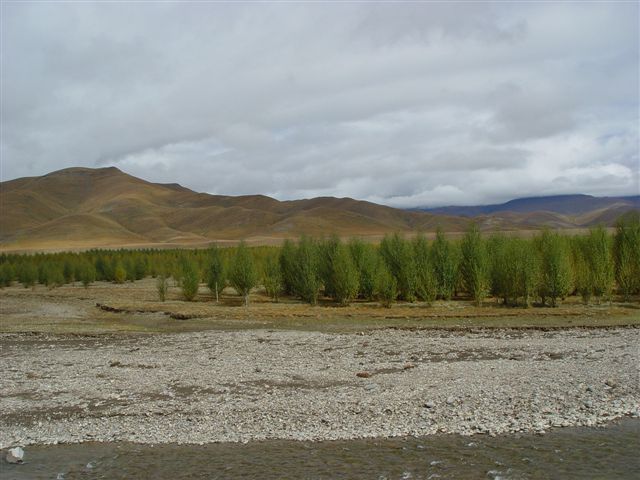 On the way back from Daocheng to Xinduqiao. The mountain is covered partly by snow.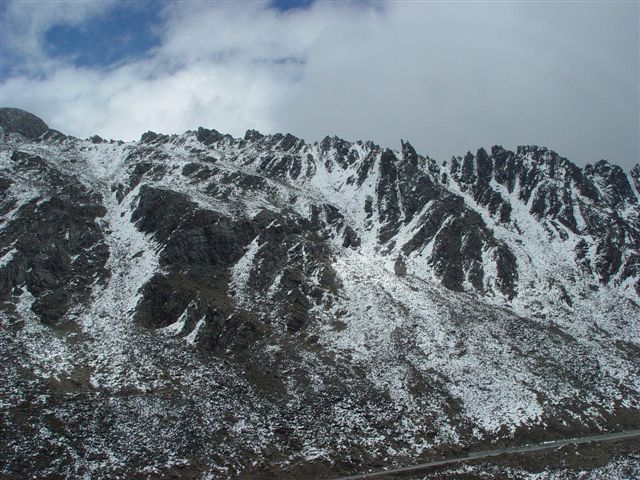 Brook running and singing along the valley of Yading.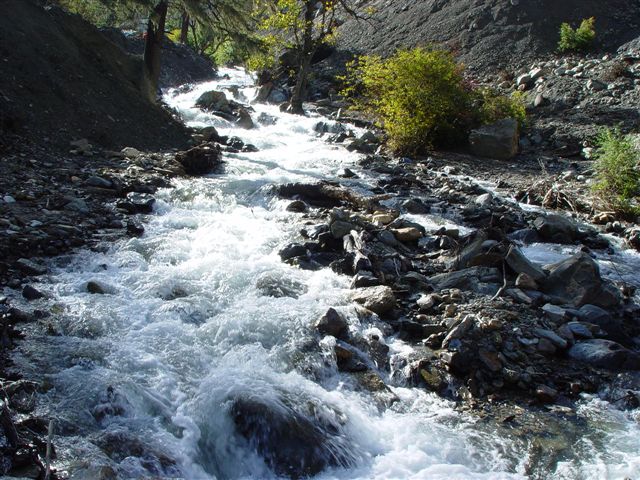 Amazing pictures and sceneries, aren't they? Here is what you can do to know more about Yading and Daocheng.
1 Read about my weblog on Daocheng.
2 Download and set Daocheng scene as your wallpaper.
3 Continue to browse more pictures from Daocheng.
4 Read what others are saying about this page and write your comments.
5 Have a close friend? Why not send him/her a Daocheng greeting card now?
Browse other people photo. We were in the same group in Daocheng
Travelogue by Caca in Chinese
Luo Ye Hong's Photo in Xinduqiao
Miss Luo comes from Fuzhou. She has been an independent traveler or explorer for some time. She brought much liveliness to the group.
Caca and Xiaobai's Photo in Daocheng
Caca and Xiaobai come from Wenzhou and they work for Wenzhou Daily. It is an admirable to be the editor of the travel column. See their professional photos.
Video in Daocheng
Cautious: The video size is large - 48M in size
Jiuzhaigou by Maphis
Maphis's photos in Jiuzhaigou. He did much better job to express the waters and mountains in Jiuzhaigou using his camera.
Daocheng Photos by Cuanyu
I met Cuanyu in a very interesting way. He obviously explored more in Daocheng than me. Take a look at photos he took.
Dream Like Tibet
My friend sent these pictures to me. I am not sure of the photographer of these pictures yet. I hope I can put his/her name with the fanatics pictures and offer a link back to his/her site.
Questions and Answered about Daocheng
Other great resources
Trekking in the Yading Reserve, Dabpa by Pamela Logan
Page 1 | Page 2 | Small Pictures | Download wallpaper
Copyright Notice
The copyright of all these pictures belongs to Jian Shuo Wang. I don't want to add any mark to these beautiful pictures to protect my copyright. Please do not use it without my permission. However, you get my permission to use these pictures on your website if you
Thanks for your support.
More Information
© Copyright 2002 Jian Shuo Wang. All right reserved.