Home | Directory | Photo | Map | Random | About me
Internet Access
[ Up ]
[ Taxi ]
[ Telephone ]
[ ATM ]
[ Bus Stop ]
[ Car Rental ]
[ Long Distance Bus ]
[ Domestic Arrivals ]
[ Internet Access ]
[ Location ]
[ To Pudong Airport ]
[ Restaurants ]
[ Flights to Beijing ]
[ History ]
[ Hotel ]
There are basically three places you can access Internet.
1. The Internet Enabled Telephone.
At many boarding gates, they provide the telephone with large LCD screen and touch-screen keyboard. You can gain Internet access at 0.1 RMB per hour. You should buy the IC card (with value of 50 RMB and 100 RMB).
The operating system they use seems not a Windows so the browser is not popular. There may be some error to browse some websites.
2. Business Center
Near the boarding gate No. 4, there is a business center. They have two computers and one telephone line. You can use either of the two computers to access Internet. Their rate is 30 RMB per hour. You can also use your laptop to dialup via the telephone line - you cannot find a second telephone line in public area of the whole airport.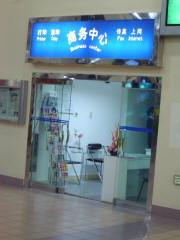 3. CNC (China Network Communication) Wireless Network
Hong Qiao Airport is covered by CNC wireless network (well, I thought it was covered but am not sure, since I didn't detect the signal today but remember I have detected before). Let me check and be back...
More Information:
© Copyright 2002 Jian Shuo Wang. All right reserved.
Buy Xenical
Buy Xanax
Buy Phentermine mp3 players
Buy Phentermine mp3 player
Buy Cheap Phentermine Penis Enlargement
Cialis
Buy Cialis