Home | Directory | Photo | Map | Random | About me
Restaurants
[ Up ]
[ Taxi ]
[ Telephone ]
[ ATM ]
[ Bus Stop ]
[ Car Rental ]
[ Long Distance Bus ]
[ Domestic Arrivals ]
[ Internet Access ]
[ Location ]
[ To Pudong Airport ]
[ Restaurants ]
[ Flights to Beijing ]
[ History ]
[ Hotel ]
To eat at an airport in China is not a good idea. Personally, I don't like any food they provide at Hongqiao Airport. They are much more expensive than restaurants outside the airport. Actually, for first time visitors, you will still find the foods there cheap enough since it is much less expensive than that in Hong Kong or Tokyo.
Turning right of the Arrival B is a large one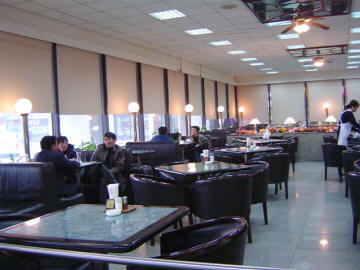 Turning left of the Arrival A is a smaller one.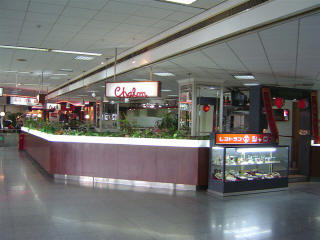 Guess what, it was a piece of breaking news McDonald's has an outlet there. It was the first time, according to local newspaper, that competition wsa introduced into dining business in an airport in China. Before that, most restaurants are run by local airport administrations so they can create the foods people don't like with high price by taking advantages of their monopology.
The McDonald's price is flat. It is exactly the same as anywhere in the country. A cup of coke (small/middle/large) is 3.5 / 4.5 / 5.5 RMB. A meal suite costs 17.5 RMB (2.1 USD).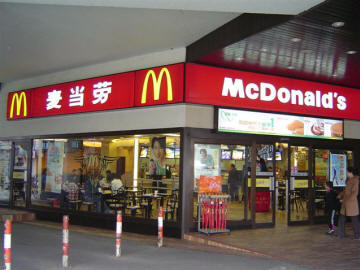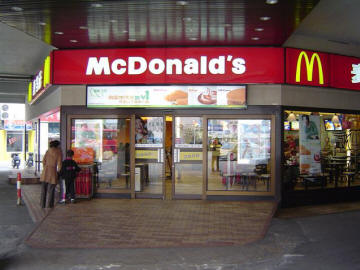 It is a very nice place to stay if you have to kill some time during a flight transit. I am using my laptop here (they didn't have wireless access). But they have the world-wide standard clean tables and seats with pleasant music. You know it is luxury to have the nice music at the airport.
To my surprise though, they didn't offer English menu at their counter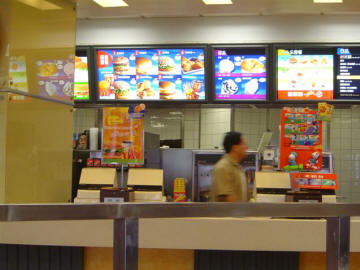 Conclusion:
If you are not starving or you don't have to wait more than 2 hours at Hong Qiao airport, escape with a taxi and find any restaurant in downtown area.
More Information:
© Copyright 2002 Jian Shuo Wang. All right reserved.
Buy Xenical
Buy Xanax
Buy Phentermine mp3 players
Buy Phentermine mp3 player
Buy Cheap Phentermine Penis Enlargement
Cialis
Buy Cialis