Home | Directory | Photo | Map | Random | About me
Taxi
[ Up ]
[ Taxi ]
[ Telephone ]
[ ATM ]
[ Bus Stop ]
[ Car Rental ]
[ Long Distance Bus ]
[ Domestic Arrivals ]
[ Internet Access ]
[ Location ]
[ To Pudong Airport ]
[ Restaurants ]
[ Flights to Beijing ]
[ History ]
[ Hotel ]
Most people take taxis to leave the airport. Since Hong Qiao airport is much nearer to the downtown area of the city, the taxi fee is typically less than 100 RMB (12 USD). If you are at Pudong Airport, it is another story. I would like to recommend you to catch airport buses instead.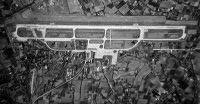 The terminal building of the Hong Qiao airport has a "L" shape. See the picture on the left (Image Credit: GlobalSecurity.org) There are two buildings with a rectangle with each other. The Arrival Exit A and B are located on each of the two building. The taxi station is at the corner of the "L", outside the Arrival Exit A.
---
Find the Taxi Queue
If you arrive at Exit A, go directly ahead and go through gate 1 or 2. The taxi queuing facility is right there. If you arrive at Exit B, turn left (follow the taxi sign there) to the queue.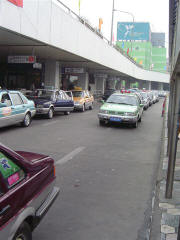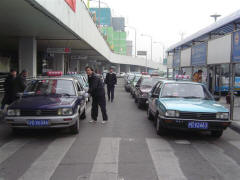 The dispatcher at the taxi station will ask you about your destination. It is to judge which taxi he/she should dispatch to you. After you get on to the taxi, it follows the rule of any taxi in Shanghai. Read my articles on Shanghai taxi for price structure and tips.

Tip 1: There is an additional 15 RMB pass fee when you leave the airport in addition to the fee on the meter. The taxi driver should give you the receipt and ask you to pay the 15 RMB. Go ahead to pay them and don't need to argue since by rule, the passenger should pay for it. But don't pay any other fees the taxi drivers ask you to pay (without a receipt).

Tip 2: Please be aware that any taxi driver picking up you must has been waiting in queue for hours (two hours at least). So they may feel bad if you goes to a very near place (let's say, Hong Qiao area, which is about 20 RMB for them). Most taxi drivers are professional and they don't complain, but do understand the story behind if they appears unpleasant. The airport has shown some effort by setting a "too-near-route" taxi queue. If you goes to nearby area of Hong Qiao Airport, you should take the special taxi. They don't needs to wait in the horribly long queue but they can only make less than 13 RMB for each trip. The dispatcher there just checks whether you are too near for the taxi in the long queue.
Special taxi queue to serve short distance passengers.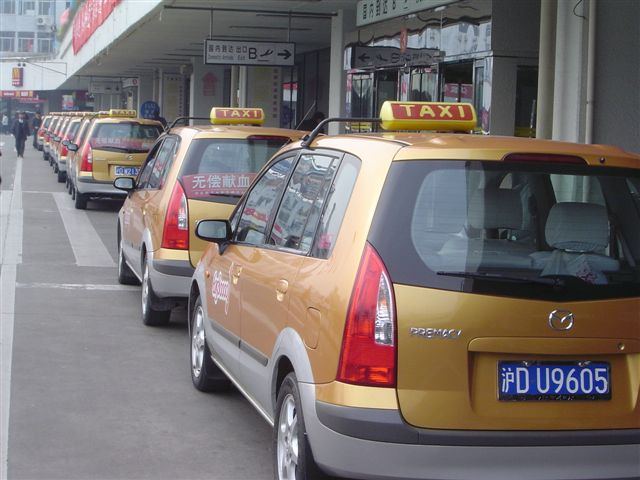 More Information:
© Copyright 2002 Jian Shuo Wang. All right reserved.
Buy Xenical
Buy Xanax
Buy Phentermine mp3 players
Buy Phentermine mp3 player
Buy Cheap Phentermine Penis Enlargement
Cialis
Buy Cialis